Yes, okay, so we're still in a state where we have to schedule self-care into our regular routine, but the positive is that we're doing it! Society is finally moving into a direction where more and more people are adopting meditation, exercise, healthy eating, food for thought, and nature in their lives. As spring turns to summer – FINALLY – gardening is a fantastic way to take a time out for your mind and body while you connect with nature at an inspiring time.
What does gardening entail? You need to prepare a space, either an actual garden or planters, and then you need to plant something. Kind of obvious, but there's the question answered. These steps alone require planning and good old fashioned elbow grease. There's tilling, turning, and digging for the physical, then you've got choosing the plants you want – maybe vegetables, herbs, or flowers to attract bees and butterflies – and the overall design. Once you've got all of that settled, you sit back and enjoy, right? Yes, but you're still involved. The joy of the garden is not just the fruits provided but the care required. You tend the garden. You take at time-out from screens and schedules to breathe in the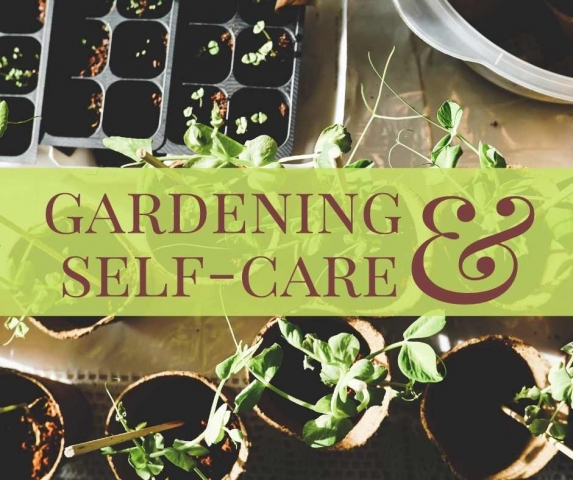 scents of sturdy stems and flourishing flowers and the sounds of buzzy bees. You need to sit down, crouch down, walk around and carefully pull weeds. You need to evaluate how the plants are growing, whether you need to fertilize or apply insect and rodent deterrents. Are the birds eating your blueberries, or did the kids get to them first? And then there's the sun exposure. Cover up and use sunscreen, but enjoy the heat and natural dose of Vitamin D. Drink lots of water while you're out there, it's going to be a hot season!
Your garden requires at least a few minutes of your time every day. In just having a garden you've got an excuse in this lovely weather to get outside and ignore the pressure of work and family as you peruse your plants and ponder next steps. Look for nibbled leaves, overgrown foliage, and wilting plants. Weed regularly to keep the effort to a minimum, and to keep the weeds from choking out your plants before you realize it. Get a rain barrel and water with a watering can by hand, or set up your own irrigation system. It's all fun!
Use your time in the garden to meditate, make time to problem solve something that has been troubling you, or to just listen to nature, and maybe even connect with your neighbours who are also doing the same. Gardeners love to share advice! And tomatoes, they love to share tomatoes. Get the whole family involved or keep it all to yourself, the choice is yours. If you're brand new to gardening and want to get started, it's not too late to buy some planters and go to the garden centre nursery to pick up some plants. There's still plenty of time this year to start a herb or vegetable garden, just talk to the staff and be sure you're picking up mature plants. Herb gardens smell phenomenal in the warm summer breeze, so keep those in mind. The best news is that everything is on sale right now!
Mandalas4You offers workshops on the art of drawing mandalas along with mindful breathing and personal calm. Appropriate for any age and stage of life, book now.