Make your next work party or fundraiser the talk of the town with a Mandala workshop!
Book a Mandala workshop for your next team-building or corporate event and learn how our modern take on this historically rich artistry can help your team find focus, relieve stress, engage strategic problem solving, disengage from negativity, all while having fun, and experiencing this art rooted in East Asian traditions.
What is a Mandala?
A mandala refers to a circular art form, typical a mandala is a larger circle containing smaller circles, or at least a central focal point.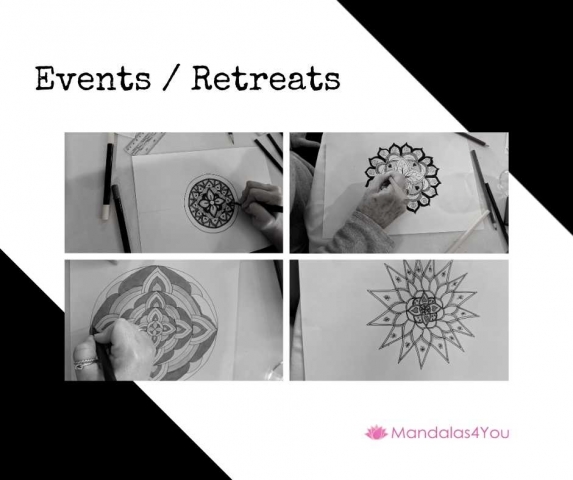 Circles are an important symbol to cultures around the world. For thousands of years circles depict powerful sentiments about the universe, the passing of time, divinity, nature, self-exploration, and love. This uniting factor is part of what makes mandala art therapy widely appealing.
Benefits of a Mandala workshop:
Unite your team with this unique team building workshop
Create team memories
Create mindfulness
Boost Morale
Find Focus
Engage in Strategic Problem Solving
and more!
A mandala tutorial provides your staff with a soothing skill set they can rely on for years to come!
What to expect during your Mandela workshop:
Our facilitator will walk you through the steps to draw a mandala from start to finish, discuss the fascinating history of mandalas, and provide mindfulness techniques you can practice while drawing anytime, anywhere.
Participants are encouraged to express their feelings through art by reflecting on how they feel in the moment or working through a selected problem they wish to solve.
Mindful focus provides the participant with a safe space to explore feelings and open up to possibilities.
Sessions last up to 2 hours and content can be customized to address specific team issues or themes upon request.
There is no minimum requirement for age, you don't need any pro artistic experience, drawing mandalas is for everyone.
Groups can range between 6 and 20 participants, and run for approximately 90 minutes.
Our facilitator will provide all equipment and materials, and take care of setup and clean up. Workshops can be hosted at your office.
If staff are still working from home during COVID, we can have a live online workshop. For information, please contact Bhupi
Read our FAQ Page for more information or Contact Us about your specific requests.
If you're looking for private party bookings, please visit this page.
Sign up for our newsletter for monthly tips on mindfulness for the busy family!