Your first thought when choosing a travel companion is compatibility. You start to sift through your list of friends and think back to trips you've been on before, and rack your brain for reasons to – or not –extend an invitation to experience the world together. Now put all of those pros and cons towards one of your parents: You already know what you're getting in to with them, you're both familiar with and can handle each other's quirky habits, and finally, perhaps best of all, you know how to have an argument without destroying your relationship (or the trip). You can truly be yourself and have a great time!
To further entice you to explore the world with a parent, think of how much it can strengthen your relationship. You want bonding time? You've got bonding time! By train, plane, or automobile a trip for 2 with Mom or Dad is time well spent. Have a heart-to-heart, learn family history, get their take on that time you cut your own hair; find out who they are as a person rather than a parent. We're finally at an age where we recognize that parents are humans, and it's humbling to find common ground with your folks beyond a common name.
Circling back to learning about family history, isn't that a great reason to travel? You can both visit areas of the world that your ancestors are from – or even just take a day trip out to the old family farm up north. You're sure to learn a great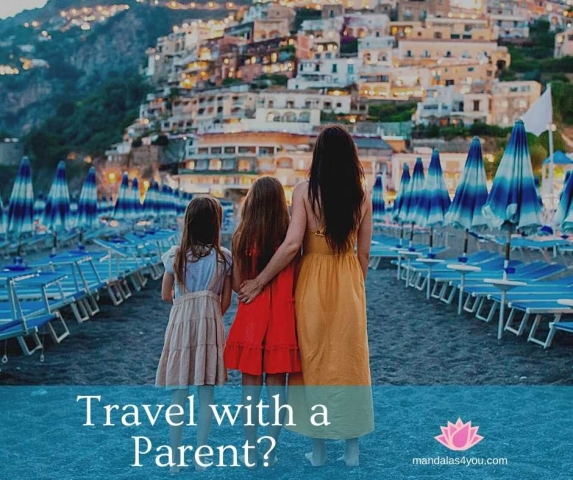 deal about yourself, and your family, as you both travel this path together. And no one else will share in your interest with as much wonder as the 2 of you while you venture back in time to find out what home used to look like.
Travelling with a parent can also offer a time to make amends. You know you're sorry for the grief you put them through in your teenaged years, but have you ever told them? Or maybe it's the other way around! A retreat abroad is a wonderful way to reconnect, or in some cases to connect for the first time, with a parent. Revisit old memories and make some new ones while you both walk the path to mental clarity and inner peace.
Now we're not oblivious to the obvious, conflict while you're travelling is inevitable, right? You can't walk away and slam the door to your room when you're travelling, and even though you're an adult sometimes being around your folks makes you forget that, but you can enjoy a companionable silence by reading in a park while sipping lattes, checking out a museum but agreeing on a meeting point rather than walking through the whole thing together, or just turning on the car radio if you need time to cool down. Don't let a small spat blow out of proportion – your relationship will be all the stronger if you work to find a satisfying resolution rather than fuel the flames of disagreement.
The short story is this: travelling with a parent is a great way to experience gratitude at it's finest!
Live Love Laugh Retreats offers a great escape for you and your mom or dad. We offer packages within Ontario, but if you're looking for a trip of a lifetime, book spots on our trip to India! For more information contact us.